Conversion Rate Optimization Increases Web Site Response Rates By 50% to 900%
Conversion Rate Optimization Services By WebSiteOptimization.com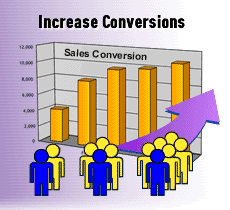 Conversion Rate Optimization (CRO) is the art and science of persuading your site visitors to take actions that benefit you, by making a purchase, offering a donation, or subscribing to a newsletter. CRO uses a wide variety of techniques, including persuasive copywriting, credibility-based web design, and multivariate testing of alternatives, to convert prospects into buyers.
The idea behind CRO is to minimize your "bailout rate" and maximize your "conversion rate" by making your website more persuasive and easier to navigate. By planning, designing, and optimizing your website to persuade, you can ensure that it will act as a more efficient sales tool. You can think of a conversion-optimized site as a successful digital salesperson who works for you 24/7, 365 days a year, qualifying leads, building rapport, and even closing sales.
More Traffic: Putting the Cart before the Horse
CRO is the fastest and easiest way to increase leads and sales generated from your web site without spending more money on increasing traffic. Yet most companies focus on increasing traffic and rankings first, leaving conversion rate optimization to be done last. In fact, according to a recent survey by Backbone IT Group only 11% of companies surveyed use some form of conversion rate optimization while 75% use SEO.
The importance of high conversion rates becomes clear when you look at the poor performance of the average e-commerce website. According to the Fireclick Index the average conversion rate is 2.2%, with a shopping cart abandonment rate of 67.6%. While CRO is dependent on a number of factors, you can expect that high-quality optimization will increase your conversion rates by 50% to 900% or even more.
The Solution: Conversion Rate Optimization
Have the Conversion Rate Optimization experts at Web Site Optimization transform your web site into powerful marketing machine that pulls MAXIMUM response and profits for your company.
Your newly updated web site will provide you with an immediate boost in results and provide you with a long term increase in leads and sales generated by your web site.
In fact, Conversion Rate Optimization combined with a pay per click program is your best option if you seek fast results or while you are waiting for your search engine optimization (SEO) program to kick in.
Benefits of our Conversion Rate Optimization Service
Conversion Rate Evaluation – To increase your conversions (leads, opt-ins, sales), we will identify your target market's demographics, psychographics, and value-hierarchy (benefits wanted).
Web Content Planning – We will conduct market research, competitive research, and create a content redesign plan to beat the competition.
Persuasive Copywriting – We will write compelling, targeted benefit-oriented copy (headlines, content, and offers) for your web site to build credibility and persuade your qualified visitors to ACT! by contacting you and becoming a lead.
Landing Page Writing – We will write new landing pages for your services that persuade your visitors to contact you and buy.
Adaptive Multivariate Testing – Using a patent-pending self-learning method our software tests different content variations (headlines, page copy, offers, layout, and style) to find which combination gives you the best conversion rates and thus sales. Our adaptive multi-variable split testing takes any guesswork out of conversion rate optimization since the numbers speak for themselves!
100% Guarantee – We guarantee our copywriting and conversion rate strategies will increase your sales.
For more details about our conversion rate optimization and persuasive copywriting services, call at 877.SITEOPT (877.748.3678).