Attention Dentists: Get More Patients with Internet Marketing for your Dental Practice
Websites and Search Engine Optimization for Dentists
Are you searching for cost-effective Internet marketing for your dental practice that will generate 10, 20, or even 40 or more new clients per month?
Today one of the best marketing strategies is getting your dental practice website top positioning on Google, Yahoo! and Bing search engines with Search Engine Optimization (SEO). SEO gets your website in front of local people from your city who are searching for a dentist. When you have top search engine rankings, many will click your listing, go to your website and then contact YOU for your dental services.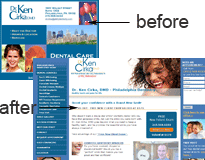 This can be cost effectively accomplished with Search Engine Optimization (getting top rankings in the major search engines like Google, Yahoo! Search, and Bing) combined with compelling Website Design & Development (creating a professional, useful, and engaging website), plus Conversion Rate Optimization (using a visually appealing website with persuasive benefit-oriented content). Read our Dental SEO Marketing PDF.
We can help you with the following…
The process of getting top search engine rankings to attract local people in your city who are searching for a dentist to your website.
Making sure your website is efficient at getting your new visitors to contact you for an dental appointment.
A professional website design builds credibility and trust to turn visitors into new patients.
| Before | | After Redesign |
| --- | --- | --- |
| | | |
Here are some dentists we're helping with building their practices …
PhillyDentistry.com was one of the first dentists that we optimized. Dr. Ken Cirka's practice went from 1 new patient a month to over 200 new patients a month. He is now in his second design and second website.
A Houston Texas-based dental practice, SmileTexas.com wanted more than high rankings, they wanted an engaging website. Through a dynamic database-driven smile gallery, SmileTexas.com achieved their goals with 70% more traffic in one year, and a highly sticky site. Videos, blogging, Web 2.0 (Youtube, twitter, Facebook, etc.) and a live chat funtion were all deployed to compete in the large city of Houston, Texas.
Dr. William Roberts wanted a clean, simple site that attracted ortho patients from Philly. He is now the top orthodontist in the Philadelphia area, and ranks well for his target keywords.
Dr. Michael Wei wanted a high end site that would appeal to the affluent Manhattan crowd. Using animation, a hybrid graphic/text-based desigin (rollover to see), and drop-down menus we achieved his goals.
Trends in Dental Marketing
Here are some trends that we've found from creating multiple sites for dentists. For more details see our story on dental websites in Optimization Week.
Smile Galleries are Popular – Typically second only to the home page.
Dynamic is Stickier – Interactive smile galleries and sites have longer dwell times & higher conversion rates.
Natural Leads are Cheaper than Paid – Natural leads typically cost 3-5 times less than PPC leads (see Figure)
Natural Cost per Visitor Decreases Over Time – The cost of natural traffic typically decreases over time as backlinks accumulate (see Figure).
Videos are Powerful – Videos draw visitors and search engines, on and off-site (Youtube)
Blog Onsite – Blogging onsite builds traffic and backlinks, avoid offsite blogging.
Embrace Web 2.0 – Facebook, Twitter, Linked In and Youtube all get buzz, more referral traffic, and rank spots.
Optimize Conversion Rates – Track and optimize your site's conversion rates with MVT and tested layouts.
Track Phone Calls for ROI – Track both email and phone call leads to optimize your ROI.
| Cost per Natural Visitor (actual data) | | Cost Comparison of SEM Leads (actual data) |
| --- | --- | --- |
| | | |
| The cost of each natural SEO visitor tends to decrease over time as your backlinks accumulate. Natural search engine promotion builds up over time, while paid advertising is an on-demand affair. This graph shows the cost per natural visitor (natural PR budget divided by natural visitors for each month) decreased from a high of $5.90 to $1.80 per natural visitor (actual client data). | | PPC leads (email) cost about 3 to 5 times more than natural leads (in this case 6.1X more). Note here that the PPC cost per lead also decreased over time with PPC management. We have found, however, that PPC costs tend to rise over time as more businesses enter the fray. Note that phone leads tend to follow the same trend (and would about halve these figures). |
Start building your practice with Internet Dental Marketing…
Most cities in the USA have enough search engine demand (people looking for a dentist) to make this a good to excellent way to generate new patients for your dental practice. If you want to generate new dental patients with these cost effective marketing strategies, contact us today at 877.SITE.OPT (877.748.3678) for your free consultation.