Multichannel Blogsite
Hosted Weblog Creation Service By WebSiteOptimization.com
Weblog Defined
A weblog or "blog" uses XML news syndication to automatically distribute your newsfeeds to sites around the Internet. Weblog authors post headlines, decks, and stories about their favorite topics, displayed in reverse chronological order. Weblogs make publishing your news and information easy.
Not surprisingly, weblogs are quite popular, with over 70,000 blogs created every day. In fact, Technorati is now tracking over 20 million weblogs, with the total number of weblogs doubling every 5 months. This trend has been going on for at least three years. If you don't have a weblog for your business, you are undoubtedly falling behind your competitors. Wikipedia definition of Blogsite
Unlike traditional weblogging tools, MySmartChannels-powered blogsites integrate multiple weblogs for your company, as well as syndicated guest weblogs, and other information sources that increase your search rankings for hundreds, even thousands of relevant search key-phrases. Blogsites also provide an array of content aggregation services designed to provide a simple and effective way to create and maintain a formidable Internet presence. In short, a blogsite is much more than just a blog.
Blogsites are an ideal way to generate natural links the search engines favor, and take advantage of the long tail by generating a continuous stream of quality content that is automatically indexed and linked through RSS XML feeds.
Common Problems
Unfortunately, many websites owners find adding a weblog to be a daunting challenge. Complex weblog software requires IT department intervention, time-consuming installation, and hair-raising software upgrades.
The Solution: Multichannel Blogsite
Fortunately, there is a better way. Have the weblog experts at Web Site Optimization add a Blogsite to your site. Before you can say "semantic web" we'll have your blogsite up and running on our secure servers. Your hosted multi-channel weblog will boost the visibility of your site, build brand equity, and attract more users and content-hungry search engines. Blogsites include the following features: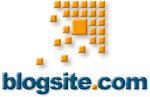 Multiple weblogs (target different subjects for maximum relevancy)
Briefing Channels (customized clipping service)
Syndicated guest weblogs (can syndicate outside content automatically)
Intelligence channels (private clipping service for story ideas/intelligence)
Support for all RSS and other XML news format feeds (Atom, OPML, etc.)
Auto-ping to news aggregation sites (Syndic8, Feedster, RSSFeeds.com…)
Search Engine Ranking Reports
Improved search engine visibility
Sub-domain hosted on our secure servers (i.e., blog.yourdomain.com or news.yourdomain.com)
Branded to your look and feel
For more details about our turnkey Blogsite Creation Service, call at 877.SITEOPT (877.748.3678) or .
References
Marks, K. (2005)

"20 Million Blogs and Counting," Technorati now tracks over 20 million blogs. Oct. 24, 2005

Sifry, D. (2005)

"State of the Blogosphere, October 2005." A presentation by Dave Sifry at the Web 2.0 conference about the growth of blogs tracked by Technorati.