The importance of download speed, for most Web users, has long been established (King 2008). Fast response times foster higher flow states (Skadberg & Kimmel 2004), higher conversion rates (Akamai 2007), higher perceived trustworthiness (Nielsen 1999), and lower user frustration (Ceaparu et al. 2004). But, previous research has also found that differences in gender, age and computer self-efficacy can moderate user priorities. This article explores the differences among men and women in their desire for speed.
Gender Differences in Website Usability Criteria
In a survey of 301 undergraduates on the importance of different web usability criteria, researchers from Southern Illinois University found that after ease of use, men prefer fast download speed over easy navigation (Pearson & Pearson 2008). Women prefer ease of use, easy navigation, and accessibility. Figure 1 shows the differences among genders for the most important factors in assessing web usability.
Figure 1: Gender Differences in Web Usability Criteria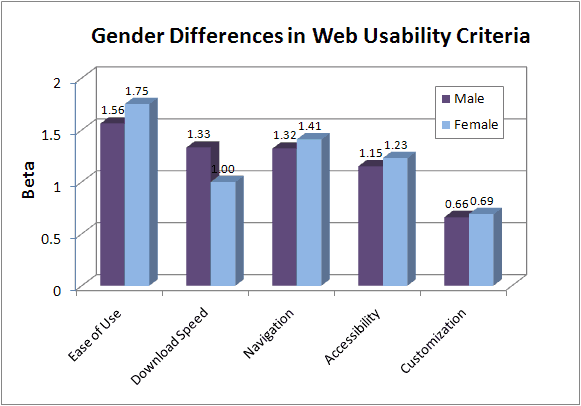 Not surprisingly, both genders agree that ease of use is the most important factor in assessing website usability (beta of 1.56-1.75). It is in the second-most important factor that gender differences come into play. Men prefer fast download speeds second (1.33), while women prefer easy navigation (1.41). Customization was found to be the least important factor in web usability (0.66-0.69), consistent with a previous design factors research.
Reasons for Gender Differences in Web Usability Criteria
The researchers hypothesize that these gender differences are due to the fact that women use the Web to develop relationships while men use the Web for information gathering. Fast download speeds make searching for information online more efficient.
Relative Importance of Web Usability Criteria
Among all respondents, ease of use was found to be the most important factor in evaluating website usability (1.54 relative importance). Intuitive navigation was second at 1.3, while accessibility came in third at 1.25. Download speed came in fourth at 1.06 and customization/personalization came in last (0.72 relative importance). Customization was less than half as important as ease of use in evaluating website usability.
Figure 2: Relative Importance of Web Usability Criteria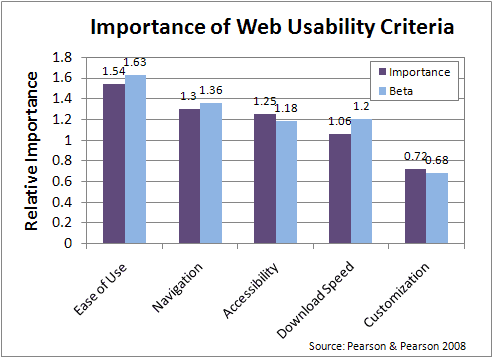 Brief Interview with John Pearson
We asked one of the authors of the study about betas and what surpised them the most about their results.
"Beta weights are
used to determine the relative importance i.e. stronger betas
(higher values) would indicate that the decision maker places more
emphasis on that criteria (relative importance) – weaker betas
(lower values) would indicate that the decision maker does not
consider that criteria important in the decision making process.

The thing I found most surprising was the relative lack of
importance the respondents placed on personalization /
customization. With all the advertising out there about how easy it
is to customize applications, I would have thought this construct
would have been very important. The only explanation I can come up
with for men is that we tend to be impatient, while women don't want
the task to be difficult. Some related work that I am familiar with
(my wife's doing the study) supports the findings of this paper;
personalization features provided by companies were rated as less
important that basic shopping functions like search, easy purchase,
handling returns, and a function to get rid of product after
usefulness is gone (if appropriate – think selling a book back or
getting rid of an old washer or dryer)." – John Pearson
Conclusions
The findings of this study suggest that the most important factor in web design is ease of use. While intuitive navigation is certainly important, designers should consider the demographics of their user base. Females prefer easy navigation and accessibility, while males prefer faster download speeds and easy navigation. Customization and personalization were found to be the least important factors in evaluating website usability. The five criteria in this study explained 65 percent of the variation in the respondents assessment of website usability. Further research will need to be done to elucidate the remaining 35%.
Further Reading
Akamai. 2007. "Boosting Online Commerce Profitability with Akamai."

Based on the finding that 30% to 50% of transactions above the four-second threshold bail out, Akamai estimated that by reducing the percentage of transactions above this threshold from 40% to 10%, conversion rates will improve by 9% to 15%. Akamai Technologies, http://www.akamai.com (accessed February 10, 2008).

Ceaparu, I. et al. 2004. "Determining Causes and Severity of End-User Frustration."

Slow websites inhibit users from reaching their goals, causing frustration. International Journal of Human-Computer Interaction 17 (3): 333-356.

Hoffman, D. and T. Novak. 2009. "Flow Online: Lessons Learned and Future Prospects,"

While Skadberg and Kimmel linked interactivity, speed, and flow, Hoffman and Novak applied their flow construct to virtual worlds. With the spread of broadband, highly interactive three-dimensional virtual worlds have become possible. The potential for flow in immersive virtual worlds is higher than in conventional web pages. Challenge and skill become variables to be tweaked, with commensurate potential for prolonged flow, increased learning, and purchases. Journal of Interactive Marketing 23 (2009): 23-34.

King, A. Web Performance Optimization

Section summary from Website Optimization: Speed, Search Engine & Conversion Rate Secrets. O'Reilly Media, 2008.

Myers, B. and M. Rosson. 1992. "Survey on User Interface Programming,"

With more than 50% of time spent on programming and user interface design, this shows the importance of user interface studies. In Proceedings SIGCHI' 92, Human Factors In Computing Systems. Monterey, CA.

Nielsen, J. 1999. "Trust or Bust: Communicating Trustworthiness in Web Design,"

Found that slow download speeds reduced perceived trustworthiness in a website. Alertbox, March 7, 1999.

Pearson, J. & A. Pearson. 2008. "An Exploratory Study into Determining the Relative Importance of Key Criteria in Web Usability: A Multi-Criteria Approach."

Investigated five criteria that have been found to be important in assessing website usability. Found that ease of use and navigation are the most important factors overall in determining website usabililty, while customization was the least. The study also investigated specific individual difference of gender, computer anxiety, innovativeness, and computer self-efficacy. The researchers found that after ease of use, men preferred higher download speeds just over easy navigation, while women preferred easy navigation and accessibility. The researchers theorize that these preferences are because women use the Internet to build relationships while men use the Internet to find information. The Journal of Computer Information Systems 4 (2008): 115-127. (also available as full text here without figures)

Skadberg, Y. & J. Kimmel. 2004. "Visitors' Flow Experience While Browsing a Web Site: Its Measurement, Contributing Factors and Consequences,"

Linked interactivity (which includes speed) to flow online. Defined flow in terms of time distortion and enjoyment. The most important factors they found for flow are: ease of use, speed, attractiveness,
interactivity, skill, and challenge. Computers in Human Behavior 20 (2004): 403-22.