Ansel Adams once said that the ideal tripod "is a cubic yard of solid concrete with a 1/4″ X #20 bold head sticking out of the top." While this certainly would give a nearly vibration-free support, for most photographers this is not a viable option. That's where tripods come in handy.
As the name implies tripods are three-legged creatures that come in all shapes and sizes. They lend support to an otherwise unstable marriage between man and machine. Videographers and photographers can extend the range of conditions that they shoot in (night, low-light) and improve the sharpness of their shots significantly with a solid tripod to support their cameras. In fact, a tripod is one of the most cost-effective ways to improve your photographs and videos destined for the Web. See our Multimedia: Use Image Stabilization article to see the benefits of sharper multimedia for smaller files for use the Web.
What Kind of Tripod?
The type of tripod you buy depends on the weight of the camera you want to support. Lighter weight digital, 35mm, medium format rangefinders, and camcorders can use lighter weight tripods. Heavier medium and large format cameras, longer lenses, and video cameras need heavier weight tripods. Tripods are rated on how much they can support. To get the stiffest and lightest possible tripod choose one with as few sections as possible, 3 is better than 4, and 2 is better than 3. Also look for metal spikes in the feet, for a solid interface to the ground.
"The tripod is essentially a simple device, but if poorly designed or constructed, it can cause inferior image quality and endless frustration. I have lost a number of potentially important photographs because of tripod misbehavior or failure." – Ansel Adams, The Camera
Tripod Materials
The best tripods are made out of materials that are effective at damping out vibrations. Carbon fiber or wooden tripods are more effective at absorbing vibrations than metal tripods. Carbon fiber tripods are generally 30-40% lighter than their metal counterparts. That's why the carbon fiber-based tripods are so popular with photographers. Gitzo, Manfrotto and others make carbon-fiber based tripods that are lightweight, yet stiff and well-damped. For most cameras these tripods are usually enough. But what about larger cameras?
Twisted Video Tripods
Tripod manufacturers boast about the strength and weight of their carbon fiber pods, but what they don't tell you is about twist. When shutter-plane cameras fire or videographers pan, they actually torque the entire camera. You can eliminate mirror vibrations by using a MLU or self-timer function, but for shutter-plane or video cameras your tripod does the job eliminating vibration. For some larger medium format cameras (Pentax 67 in particular) a solid tripod is a must to help eliminate this torque, especially for telephoto lenses (above 200mm). The solution is to use a tripod designed for video.
Video tripods have twin tubes instead of single tubes that firmly secure the tripod head to the legset and resist twist. Normal tripods from Gitzo and Manfrotto usually have three legs that splay. Video tripods like the ones from Sachtler, Vinton, and Miller have three legs, but the legs are split into two tubes. Thus, six tubes attach to the tripod head, not three. This helps counteract the torque that can occur, making these tripods a more solid support for serious videographers and photographers. The problem is, these tripods are generally more expensive than the conventional three-legged variety.
Dutch Hill Tripods to the Rescue
There are some solutions, however. Manfrotto and others offer split tube video tripods for a fraction of the cost of the Sachtlers and Vintons. Dutch Hill, known mainly for their line of impervious survey tripods, also manufacture a photography tripod called the Pro-Tec p900 (see Figure 1). This is a two-section pultruded carbon fiber tripod with aluminum, plastic, and stainless steel fittings and no center column (which is inherently unstable).
At a fraction of the cost of the more expensive Sachters and Vintons, the Dutch Hill tripod weighs a bit more (6.25 lbs), but provides solid support for larger cameras. In fact, it is the only tripod that I've tested that eliminates vibration-induced blur in my Pentax 67. The larger Gitzos (1500 series) reportedly can achieve the same effect, albeit at a higher cost.
The problem with the Dutch Hill tripod is that it is designed for someone that is 5'8″ tall. To extend the tripod to a more normal height (I'm 6′ tall), I added a third set of legs inside the second tube using the last section of a Bogen 3021 aluminum tripod (see Figure 2). The 1″ fittings fit perfectly around the second tube, and the aluminum Bogen tubes slid right in like they were designed to fit. I'm talking to Dutch Hill in the hopes that they'll extend their design to three legs to create an all-carbon tripod that can extend for taller photographers.
Ball Heads
Add a solid ball head like an Arca Swiss B-1 or a Burzynski Pro-tec head and you've got a rock-solid platform to take shots from wherever you go. The Burzynski ball head in particular is designed for telephoto lenses, but can be used with an "L" bracket for landscapes (see Figure 3). The Burzynski head fits directly onto the Gitzo Class 3 series of tripods (including the 1325).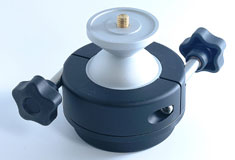 Figure 3: Burzynski Pro-Tec Ball Head
Leaf-shutter Lenses
For photographers with lighter cameras, or cameras with leaf-shutter lenses (like the Mamiya 7II or view cameras) you can get away with smaller tripods. In fact, the Gitzo 1228 is popular with photographers shooting the Mamiya 7II, it weights just over 3 lbs, add a lightweight ball head and you're talking about 4 lbs for a sturdy yet lightweight tripod. For hiking the carbon fiber-based tripods are ideal.
Conclusion
Lightweight yet stable tripods are an ideal companion for photographers on the go. Combined with a high quality ball head, you can ensure that your camera will be well supported, and your shots will be sharp. Sharper videos and photographs make for smaller and higher quality multimedia for the Web.
Further Reading
Survey tripod maker that also offers the p900 pultruded carbon fiber tripod. Two-section tripod with video-like configuration (6 tubes to the head). The author has extended this tripod with the smallest tubes from a Bogen 3021.
Makers of mandrel wound carbon fiber tripods for photography. The 1325 in particular is a good choice for photographers, or the 1500 series for higher loads.
Offers quick release plates, L plates, and other outdoor photography equipment.
German photography dealer that sells the Burzynski ball head, and Sachtler tripods.
Makers of the Carbon One series of tripods.
A solid ball head dampens sharpness-robbing vibration for sharper and smaller images and videos for the Web. Compares some pro-level ball heads and offers some tips for sharper photographs. From Speed Tweak of the Week.
Image stabilization creates sharper pictures by damping vibration to avoid motion blur. Gyroscopic stabilizers steady cameras for sharper photographs and videos. From Speed Tweak of the Week.
That includes the Ansel Adams quote in the mid-1970s.
Makers of precision plates and accessories, including L plates and Arca-style quick release plates for camera bodies.
Makers of high quality video-type tripods, including the popular ENG 2 CF (5.3 lbs supports 88 lbs).